Not Just Immigrant Rights
---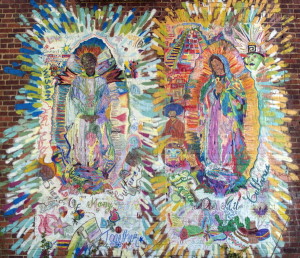 By Barbara Lau, Pauli Murray Project at the Duke Human Rights Center/Franklin Humanities Institute
This 2014, each of the participating sites in the National Dialogues on Immigration project will be contributing to our blog post series, "Immigration: Our Stories." 
"The costly lesson of American history," Pauli Murray wrote, "is that human rights are indivisible. They cannot be affirmed for one social group and ignored in the case of another without tragic consequences."
Fifty years ago Murray was arguing for the inclusion of sex as a protected category in the landmark Civil Rights Act of 1964 that ultimately outlawed discrimination based on race, color, religion, sex or national origin. What Pauli Murray realized was that we have complicated and overlapping identities. She pioneered this idea of overlapping discrimination and oppressions and coined the term Jane Crow in the 1940s to describe her own experience of discrimination because she was African American and female.
Immigrants today also experience these overlaps. Immigration status and national origin are only one part of any person's identity and only one reason a person may experience discrimination or harassment. Being an immigrant and female or an immigrant and a member of the Lesbian, Gay, Bisexual, Transgender, Queer (LGBTQ) community or an immigrant with a disability can add additional barriers to access to education, employment, healthcare, and legal protection. These challenges are intensified if one of those identities is deemed "illegal."
More than one-half of all immigrants to the U.S., both documented and undocumented, are women and while they start businesses more often than American born women they are also vulnerable to abuse by employers or being trafficked and forced into the sex trade.
As members of the LGBTQ community, immigrants can find themselves persecuted in their home countries because of their sexual orientation or gender identity. They can also experience marginalization in the immigrant community in the U.S. Immigrant rights organizations that work on behalf of LGBTQ clients to help them sponsor their same-gender spouse or fight workplace discrimination can often also experience criticism and rejection from other immigrant rights organizations that oppose LGBTQ rights.
Another example of overlapping discrimination are found in the barriers immigrants with mental disabilities face when navigating the US immigration law and the system. Many of these immigrants go to court without lawyers and are unable, because of their disability, to represent themselves. There are very few safeguards within the legal process that guarantee fair deportation hearings for them. As a result, immigrants with mental disabilities are often deported or remain in long-term detention.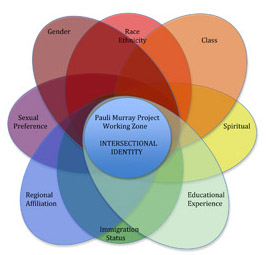 The Pauli Murray Project envisions a Durham community that actively works toward fairness and justice across divisions such as race, class, sexual & gender identity and spiritual practice that often divide us. We embrace the transformative power of collecting and telling our stories and our truths as a process that heals these divisions and promotes human rights.
We can all resonate with Pauli Murray's life goal of an integrated body, mind and spirit but the society and culture we live in often wants to divide us into identity groups based on race, class, gender, sexual identity, immigration status, dis/ability or spiritual practice.
"And since, as a human being, I cannot allow myself to be fragmented into Negro at one time, woman at another, or worker at another," Murray wrote in a 1967 letter, "I must find a unifying principle in all these movements to which I can adhere . . . this, it seems to me, is not only good politics but also may be the price of survival."
The Pauli Murray Project at the Duke Human Rights Center/Franklin Humanities Institute is working to promote dialogue about contemporary issues that respects individuals as multi-faceted people. We want to create opportunities for people to bring their full selves as we consider how to address the human rights issues associated with immigration policy and the experience of people for claim immigrant as aspect of their human experience.