Immigration Right Now
---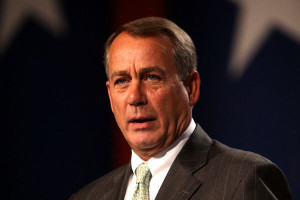 Here are the fast facts on U.S. immigration reform developments in 2014 thus far:
Republican Immigration Reform Plan
Republicans are set to release their immigration reform plan at the end of January, 2014, right before President Barack Obama's State of the Union address on January 28th. Speaker John Boehner (R) is reportedly the guiding force behind the plan, which, according to POLITICO, includes the following:
-A strategy for increasing border security and interior enforcement
-Reforms to the visa process
-A system to track those legally residing in the United States
-A way for employers to verify the status of their workers
-A route for undocumented immigrants to earn legal worker status
However, although the details of the plan are set to be released in full soon, some Republican leaders are calling for a delay in immigration reform until after mid-term elections.
The National Foundation for American Policy, which is a non-partisan research group based in Washington, released an estimate that says, according to the Republican Party plan, 4.4 to 6.5 million undocumented immigrants could gain legal status in the U.S. The numbers are based on statistics provided by the Department of Homeland Security.
Immigration Deportation Cases
The L.A. Times related earlier in January that according to a study by researchers at Syracuse University, immigrants facing deportation are more and more likely to have their case dismissed due to factors such as having children who are U.S. citizens.
U.S.A. Today also did a story regarding deportation descrease, announcing that the number of people deported by the federal government dropped by 10% from last year, due to pressure from immigration advocates on the Obama administration over its number of deportations. In the fall of 2013, the Pew Research Center reported on the large amount of deportations that were being continued by the federal government, despite the high rate of Latino disapproval.
California, Undocumented Immigrants and Driving Licenses
California recently laid out a $64.7 million dollar plan that would allow undocumented immigrants to obtain a driver's license. However, opponents of the plan say the fee for applying, currently $33, is too low.

For Your Reading…

Slate political writer David Weigel recently commented on the Heritage Foundation leaning towards the left when it comes to immigration reform.
The Seattle Times posted a feature regarding how the stalled immigration reform bill could play a large factor in upcoming elections.
The Wall Street Journal reported how State governments are taking the lead in immigration reform while Congress delays.
The New York Daily News covered how the U.S. Supreme Court could help "aged out" immigrant children get back on the path to citizenship.
Writing for The Hill, Russell Berman discussed where Democrats could and/or should compromise when it comes to immigration legislation overhaul.
The Latino Post documented how DREAMers and Immigration activists are in conflict over the urgency of citizenship versus deportation for undocumented immigrants.
The Huffington Post published an interview with Luis G. Pedraja, Provost and Vice President for Academic Affairs at Antioch University in Los Angeles, in which Dr. Pedraja discussed the challenges facing undocumented immigrants when it comes to higher education.
The National Journal analyzed Speaker Boehner's immigration strategy for 2014, factoring in that 2014 is also an election year.
MSNBC looked at the Republic plan from an economic standpoint, discussing how it "pits unemployed against undocumented immigrant families," while Phys.Org published an editorial arguing that focusing on undocumented immigrants is a mistake for Republicans.