Ask President Barack Obama about Immigration Reform on Friday
---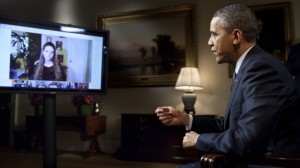 by Lisa Bernier
The White House has organized the first ever Virtual Hangout Road Trip with President Obama. Beginning on Friday, January 31st, the President will, via the road of the Internet, travel across the country talking to citizens about various issues that confront the United States in 2014.
This Friday, join in and ask the President a question about the immigration legislation agenda in 2014! In his State of the Union address on Tuesday, January 28th, President Obama said the following about immigration reform:
"When people come here to fulfill their dreams – to study, invent, and contribute to our culture – they make our country a more attractive place for businesses to locate and create jobs for everyone.  So let's get immigration reform done this year."
Do you agree? Do you disagree? What reforms do you think should take place? Ask the POTUS himself on Friday!
For full details on how to join the Hangout and ask the President a question, go to the White House website, where it has instructions on how to upload a video.
To get informed about dynamic conversations and updates around immigration in the news recently, check out these following stories in our Weekly Roundup:
Top Republicans to Call for Legal Status for Some Immigrants via the New York Times
The 'Tiger Mom' Superiority Complex via TIME Magazine
House GOP Leaders Unveiling Immigration Reform Framework via CBSNews
As World Ages, Immigration Seen as a Big Boost to US via ABCNews
Houston Immigration Raid Part of Multi-State Smuggling Case via the Houston Chronicle
Immigration Police Pilot 'Stop and Frisk'- Style Raids in New Orleans via Aljazeera America
Finally, didn't catch the State of the Union address and want to hear President Obama talk about immigration directly? Watch it below!